Not much interesting has been happening lately. Sorry for the lack of blogging! I really wanted to be able to post every day, but I didn't want this thing to become an "I did this and then I did this" type of blog - boring!
So instead, here is a roly-poly panda: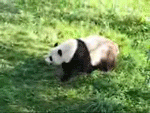 (isn't he cute! Apologies to Miss A. H. Cayley for stealing her idea..)
Ooh, so in attempt to spice up this post, I just went around the house and took some photos of things I like. Maybe you'll find something you like too!

#1: yellow tights.
This is what I'm wearing today. The pink shirt is a Love Of Diagrams tee, and the shoes are Docs that I'm trying to break in. They're beating me so far, but I am determined!

#2: silk scarves.
One of the easiest ways to add a splash of colour to your Melbourne black is with one of these babies knotted casually around your neck. Mine are all from various op shops and vintage stores, except for the skinny arlecchino one, which is from Gorman.
#3: my window menagerie, plus teapot.
Some little things I've collected over the years. Here there are in more detail:
My friend Preethi gave me this cat money-box as a housewarming gift when I moved into my last house, in Thornbury. I've never put any money in it, though.
A pig from Vanuatu, and Three Wise Monkeys from Botswana, both gifts from my parents from various overseas trips. Take note, potential suitors - this pig is my dowry, as is traditional in Vanuatu. Form an orderly queue, now.
Half a tiki, from New Zealand. My dad brought this back years ago - it used to scare me a bit.
An elephant from South Africa, and a teapot from Savers in Greensborough. Isn't it funny how teapots and elephants are similarly-shaped?

#4: vanilla tea.
My very wonderful and talented friend
Pip
sent this to me from Tasmania. Aren't I lucky!
(also note my baby-blue kettle!)
(psst.. Pip! I've nearly run out!)
#5: dictionary.
This Chambers dictionary was a 21st birthday gift from my grandmother, who thinks every home should have one. It's definitely one of the most useful gifts I've ever received - it gets used on an almost-daily basis. Ask me a word -
any word
- and I bet you $10 it's in there.

#5: organised clutter.
This is a recurrent theme throughout my house. My mother will scoff when she reads this ("Ha! There's no such
thing
as 'organised clutter'!"), but I swear I know where
everything
is, except when
someone else
has moved it. In this example, you will see (from left to right):
A Vancouver moose, brought back from Canada by my mother, my film camera, Bear (who was a gift from my first love), my zoom lens, a mint-green clock from an antique store in Hamilton, a robot birthday card which I was supposed to send to my father for his birthday almost a month ago, a Butch Vig drumstick, a Glomesh purse that belonged to my grandmother, and a couple of candles brought back from Malaysia by my father.
Phew!